Drone Surveying Services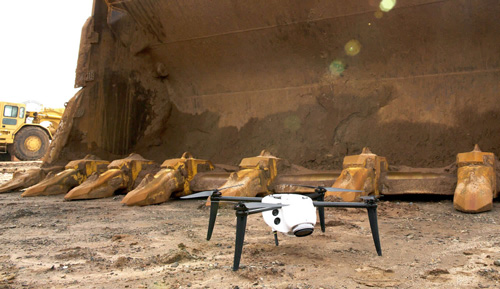 Swayze's Concrete Ltd. has recently made the decision to get in on the ground breaking technology of aggregate measurement. We are now using the Kespry Drone for stockpile measuring.
Advantages of the Kespry Drone vs. Surveying Piles
– Faster
– Safer
– Cheaper
– More Accurate
– We can do in minutes what used to take days.
This system will revolutionize the way you track your inventory. Throughout the year, we will send you up-to-date information on your pits and
stockpiles if you choose to go with the inventory management system that we offer.
Inventory Management System:
– Instant access to your stockpile information.
– Up to date and more accurate information for audits
– Detailed pictures of stockpiles
– 3D model so you can see what your pile looks like exactly
– Lets you track shrinkage more accurately
– Also can be an alert of theft on your sites
– Great for pit planning for future crushes
Accurate measurements of your inventory ensures that you never have to write down thousands of dollars in losses or reconcile end of quarter, or end of year discrepencies. With this system, we can get you a monthly inventory system that works for you; it will always be just a click away, right at your fingertips. This technology is coming and we want you to get in on the ground floor with us so we can help each other grow towards the future. Please gives us a call so we can put our drone to work for you!