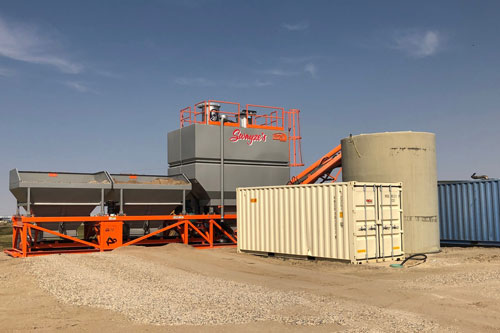 Swayze Concrete Ltd. is a concrete producer that got its start in 1960. Five Batch plants spread across SE Saskatchewan.
Present day Swayze's is navigated by Ryan and Randy Swayze, the 3rd generation operating the business. Currently, building a new plant and office in Assiniboia to replace the one that burned to the ground January 30, 2020, is the latest change.
It has been a process, but a new semi-portable plant is currently operating in Assiniboia and providing concrete for a number of projects in the area. The design and plans are well underway with the expectation to erect the new building this fall to house the batch plant. Although a new plant and new building is going to bring a fresh start for Swayze's in Assiniboia, we have been a proud member of this community for the last 15 years.
Swayze's are involved in a number of projects across our service area in 2020 and are very appreciative to all the contractors, communities, farmers, and residential customers that have supported us.
Other Services:
Sewer/Water repairs and Installations
Basement Excavations
Snow Removal
Aggregate Inventory Measurement and Management – Via Drone Technology
Volume Calculator - Concrete & Aggregates